Nowadays, messaging is a huge part of how we interact with other. We use it for a myriad of purposes, from communicating with people and organizing events to discussing important matters. Due to this, it is no surprise that many app developers are competing in the market to make the most convenient and fun messaging app. Facebook messenger and WhatsApp are the top contenders, with the former providing advanced interactive features and the latter providing the users with end-to-end encryption thus improving privacy. However, this year, this is most likely to change since we have two latest messaging competitor – Apple's new iMessage app for iOS 10 and an all new messaging app from Google, Google Allo.
At WWDC '16,
Apple announced quite some enhancements to its iMessage app
and added several 'cool' features, so to speak. People were really excited to see these changes, however, quite a few of them are unaware of Google Allo. Google Allo is a messaging app that was announced by google during Google I/O '16. The app uses your phone number to log into the service, which means that it can be used to send text messages on Android devices. It basically has all the similar features as what Apple announced during its WWDC '16.
There are times when you are excited for a weekend trip with your friends, but there's no way to show your excitement over a text message. To help you convey your emotions, Allo allows you to 'shout' or 'whisper' by allowing you to alter the size of the font of the text. Apple announced something similar – it has bubbles that animate to show similar emotion, but the bubbles don't stay big unlike Allo. Other Allo features also include smart suggestion, which suggests you some replies based on the context of the text you received (while Apple calls it's own iteration of this feature as 'QuickType'). Doodling on images is another feature, which was announced for Google Allo, and adapted by Apple.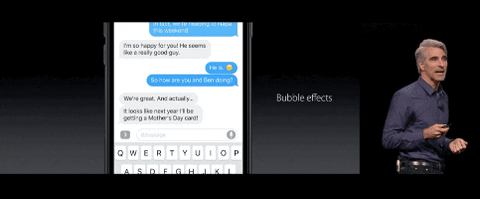 Suddenly, Apple's changes to iMessage doesn't look all that innovative, do they? Although both apps seem to offer similar user experience and features, there are certain features that are unique to each app. Google's Allo has Google Assistant built in. For those of you who aren't aware of Google Assistance, it is an artificial intelligence system by google that tries to have one-to-one interaction with the users, and learn more about them. So built in Google assistant in Allo makes things simpler for you. Let's say that you and your friend are arguing about two cars, and instead of going to google images on your web browser to find a pic of the car that you like and then sending the screenshot of it, you can just say '@google car images' right in your conversation in Allo, and the Google Assistant will bring up the images right there in the conversation as well. Not just that; it also work with restaurant reservation via OpenTable, buying movie tickets via Fandango and many other apps. Google Assistant will also be able to provide showtimes to both you and friend, ALL IN THE CONVERSATION. THAT SIMPLE! On the other hand what makes Apple's iteration different is privacy. Apple adopted Differential Privacy for all its new features in iOS 10. This method does send all your data to Apple's server, however, it scrambles the user information linked to the data so that there is no way to trace back the data to you. Google's Allo does have an incognito mode that allows end-to-end encryption like WhatsApp, but it is just not as big of a deal as Apple's adaptation of Differential Privacy. This is no shocker; Facebook Messenger already uses your data in ways that you do not even understand, and WhatsApp was doing it too until recently since it turned on end-to-end encryption. It is up to you if you can trust Google with your data, although you have already been trusting it with your location history and web history when you use every other Google product.
Yes, Apple did rip off a lot of feature from Google Allo, and many Android fans are not going to be happy about it. However, we are at a point in smartphone industry where true innovation is hard to come by, and all there is left is improving already existing solutions. This is what Apple did – inspired features from Allo, and garnished it with its cutting-edge privacy program. And to some extent, that is what Google did as well – improve already existing features of Facebook Messenger and WhatsApp.
Images: Official Google Blog, Giphy